Now Reading:
German football team celebrates World Cup victory German football team celebrates World Cup victory
Germany's World Cup winners shared their fourth title with hundreds of thousands of fans by parading the trophy through cheering throngs to celebrate at the Brandenburg Gate.
An estimated 400,000 people packed the "fan mile" in front of the Berlin landmark to welcome home coach Joachim Loew's team and the trophy – which returned to Germany for the first time in 24 years.
Players and staff took to the stage for a series of light-hearted celebrations, including singing, dancing and a triumphant display of the trophy.
Mario Goetze, the scorer in the 1-0 win over Argentina in the final on Sunday, was greeted with deafening cheers by the sea of fans waving black, red and gold Germany flags.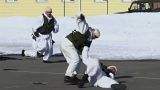 Russian soldiers held military exercises in Murmansk on Tuesday (25 April) in order to highlight the army's readiness to fight in severe weather conditions.