Now Reading:
Whips and Flips Defending X-fighters world champion Thomas Pagès of France put on a spectacular display of tricks to win the freestyle motocross competition in Madrid on Friday (June 27), the third event of the season.
In front of a crowd of 23,000 in the Las Ventas bullring, the Frenchman performed the first bike flip in competition to help secure his first win of 2014.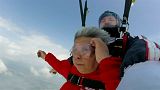 A 70-year-old grandmother has become an internet star in China after she took up skydiving.