Now Reading:
Cycling naked for their rights Cycling naked for their rights
An estimated 1,000 naked cyclists in Mexico City and hundreds more in Caracas took to the streets to protest car culture and demand cyclist rights. The protesters were riding naked to represent how bike riders feel vulnerable to aggressive motorists.
In Venezuela the naked or semi-naked cyclists were forced to cover up by police.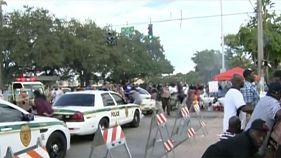 Eight people, including five juveniles, have been wounded in a shooting at a park in Miami.