When the tides of Normandy are out, something emerges that looks like the wreck of a giant train. It lies within sight of the shore.
Without this artificial port, D-Day could not have succeeded. This is the ghost harbour of Arromanches.
The concrete floating caissons, known as Phoenixes, were towed across the Channel from England the next day, to form the walls and piers of what was called a Mulberry harbour.
Frédéric Sommier, the head of the Arromanches Museum, said: "All the main ports, Cherbourg and le Havre, were in German hands, and well-defended. There had to be a logistical solution, and Churchill came up with this fabulous idea: to create an artificial port in Britain and then haul it over and set it up here."
Arromanches first saw obsolete ships sunk to lay outer foundations. Phoenixes followed swiftly, and by 14 June, cargo could start to be unloaded and rolled ashore.
Sommier said: "In stage one, to make an artificial breakwater, old merchant vessels were scuttled."
The mulberries were fully operational by the beginning of July. The artificial port of Arromanches proved its value with the major offensive Field Marshal Bernard Montgomery launched that month on Caen.
Sommier said: "All the concrete parts, right up to the biggest, which each weighed 6,000 tonnes, floated. Within the port were loading platforms and docking facilities for ships. Floating roadways led from the quays all the way to the beaches. You can see a part of one behind us here at the museum."
The roads bridged the stretch between the water sufficiently deep for large vessels to approach and the shallows and then land.
The museum of Arromanches has working models and films to help understand the incredible technical achievements. Another Mulberry was built at Omaha Beach but was swiftly destroyed in a three-day storm. The surviving British harbour came to be known as Port Winston. In its eight months of use, 2.5 million men landed here, 500,000 vehicles, and 4 million tonnes of supplies.
The dock piers were code-named "Whales" — 16 kilometres of them. The pier heads were called "Spuds". The steel or concrete pontoons the roadways were mounted on were called "Beetles". They were moored in position by cables attached to "Kite" anchors, which had to resist the constant waves and tidal pull. The whole combination had the same capacity as the port of Dover.
Our correspondent Laurence Alexandrovic marvelled at "…the gigantic construction spread over 500 hectares, around the coverage of 714 football fields, handling loads of up to 18,000 tonnes of material per day."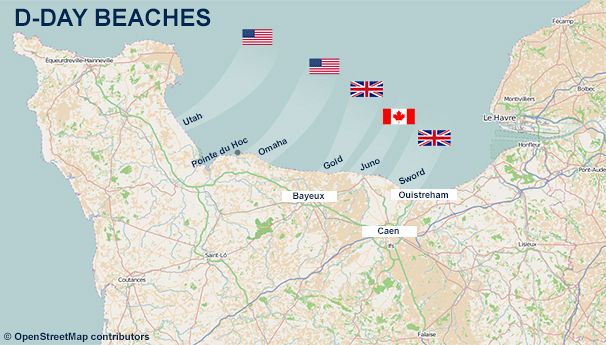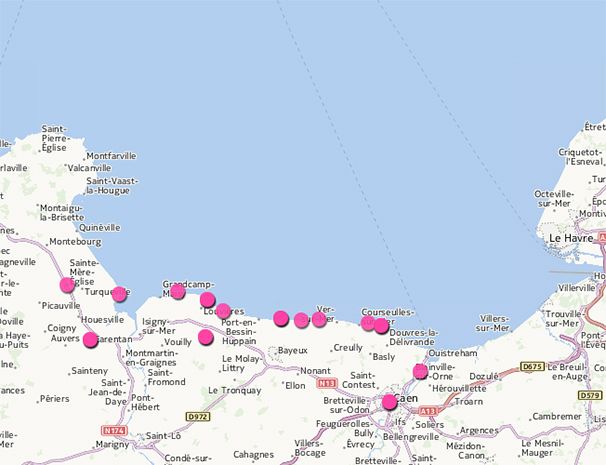 See these pictures on a map