Now Reading:
Darth Vader runs for mayor in Ukraine Darth Vader runs for mayor in Ukraine
The Ukrainian Internet Party candidate for Kyiv and Odessa mayor, known as Darth Vader, continued his electoral campaign in Kyiv and declared his intention to save Ukraine from 20 years of chaos.
"It will all end with a tick on the voting slip for the name of Darth Vader because for the past 20 years in Ukraine there has been a circus," Darth Vader told the surrounding crowd.
The election takes place on May 25, the same day that Ukraine is due to elect a new president.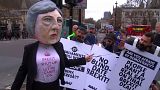 Demonstrators stage a protest outside of the Houses of Parliament ahead of the British PM Theresa May, triggering Brexit with Article 50.