Now Reading:
Homs after Syrian rebels left Homs after Syrian rebels left
People from the devastated city of Homs returned to salvage what remained of their belongings and homes after years of conflict and siege on Sunday May 11.
A deal finalised last week led to the evacuation of some 2,000 rebel fighters from the historic Old City, allowing many residents and shop owners to return for the first time in two years.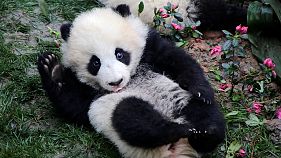 Giant pandas around the globe are welcoming the Spring Festival, or Chinese Lunar New Year, which falls on January 28 this year.