Now Reading:
Dancing for… Pope Francis Dancing for… Pope Francis
Pope Francis attended a giant rally for children and teachers from Italy's Catholic schools, with the Vatican saying that 300,000 people turned out for the event in and around St Peter's Square. The event was organised by the Italian Bishops' Conference whose leader Cardinal Angelo Bagnasco pointed to "problems" and "difficulties" in Italy's education sector.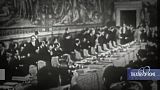 The leaders of Belgium, France, Italy, Luxembourg, the Netherlands and West Germany signing the Treaty of Rome on 25 March 1957.