On April 15, a total lunar eclipse will take place, the first in two and a half years. This rare celestial show will be visible on Tuesday as Earth's shadow falls across the moon, shifting its colour from bright orange to blood red and brown, depending on local weather conditions.
"The Moon's orbital trajectory takes it through the southern half of Earth's umbral shadow," explains NASA, "although the eclipse is not central, the total phase still lasts 78 minutes."
You can follow the total lunar eclipse live on the following webcasts.
Live total lunar eclipse stream #1 with the Gloria project
The first webcast is set up by a team of GLORIA (GLObal Robotic telescopes Intelligent Array for e-Science) astronomers in the highly symbolic ancient Inca site at Machu Picchu in Peru.
"It'll be a special eclipse for several reasons," Miquel Serra-Ricart, Astrophysical Institute of the Canary Islands (IAC) and leader of the expedition to Peru, said in a statement. "First of all the site, the walls of Saksaywaman, are sacred to the Inca culture. Secondly, the eclipse will form part of a tetrad of total eclipses that will occur within an interval of eighteen months and end with a total eclipse of the Moon on 28 September, 2015, the only one that will be visible from Europe."
According to the IAC website, "another GLORIA team will observe the event from the peak of Mount Teide (Tenerife), showing how the shadow of the volcano aligns with the eclipsed Moon."
Live total lunar eclipse stream #2 with Slooh
Slooh's Total Lunar Eclipse will start at 2 AM EDT on Tuesday with live feeds from throughout North America. This webcast will welcome "a wide range of experts (…) during five full hours of programming, including astronomy luminary and bestselling author Timothy Ferris, author of "Seeing in the Dark", and Professor Emeritus of Astronomy at UC Berkeley, and documentary filmmaker Duncan Copp, producer of the award winning film, 'In the Shadow of the Moon'."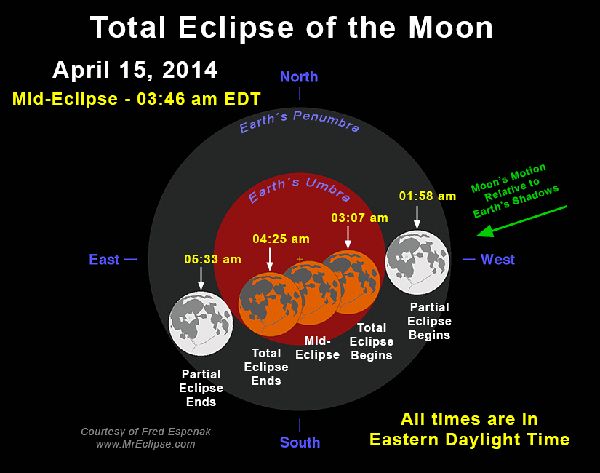 However, not everybody will have a chance to witness this phenomenon. "The entire event is visible from both North and South America. Observers in the western Pacific miss the first half of the eclipse because it occurs before moonrise," explained NASA.
"Likewise most of Europe and Africa experience moonset just as the eclipse begins. None of the eclipse is visible from north/east Europe, eastern Africa, the Middle East or Central Asia."
Read NASA's technical description of the April 15 total lunar eclipse
Total Lunar Eclipse of 2014 Apr 15 by newmedia_euronews
(with agencies)