Now Reading:
Chile evacuates coastal areas Chile evacuates coastal areas
Thousands of people evacuated from Chile's low-lying coastal areas returned home on Wednesday (April 02) morning after authorities called off a tsunami alarm as damage from a massive overnight earthquake seemed mostly limited. The major earthquake, with a magnitude 8.2, struck off the coast of northern Chile on Tuesday (April 01), killing six and triggering a tsunami that pounded the shore with 2-metre waves.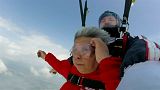 A 70-year-old grandmother has become an internet star in China after she took up skydiving.