Now Reading:
NATO training exercise in Norway NATO training exercise in Norway
Troops from sixteen countries are taking part in a NATO training exercise this week in the harsh environment of northern Norway, near the Russian border.
The alliance and its partners are working together as part of Exercise Cold Response 2014. It is the sixth time such an exercise has taken place within the Arctic Circle. This year sees the participation of more than sixteen thousand sailors, soldiers, airmen and Marines, from countries including the US, Sweden, Canada and the UK. It includes large troop movements, foot and vehicle patrols, amphibious raids and simulated combat.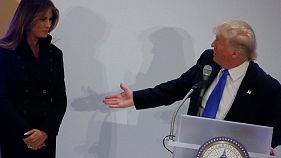 Trump called his wife to speak at the luncheon honouring his supporters on the eve of his swearing in as the 45th U.