Now Reading:
Pole dancing robot at CeBIT Pole dancing robot at CeBIT
German Chancelor Angela Merkel and British Prime Minister David Cameron attended the annual CeBIT techfest in Hanover, Germany which is pushing data protection and privacy as its big theme this year.
The vast CeBIT show boasts 26 exhibit halls and caters to hundreds of thousands of attendees, including this year's star attraction – a pole-dancing robot.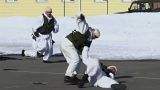 Russian soldiers held military exercises in Murmansk on Tuesday (25 April) in order to highlight the army's readiness to fight in severe weather conditions.