Now Reading:
World Cup: clashes in Sao Paulo World Cup: clashes in Sao Paulo
Thousand of Brasilians took to the streets of Sao Paulo on Saturday to protest against the costs of the football World Cup.
The largely peaceful crowd was met by a massive riot police force who used tear gas and stun grenades to disperse the crowds.
The demonstration came less than four months before the FIFA World Cup will kick-off in Sao Paulo on June 12.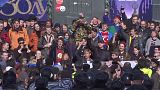 Thousands of people crowded into Moscow's Pushkin Square on Sunday for an unsanctioned protest against the Russian government.