Now Reading:
Venezuela: opposition politician freed by protesters Venezuela: opposition politician freed by protesters
A crowd of Venezuelan anti-government activists freed an opposition politician on Monday, as he was being hauled away in handcuffs by security forces, following a raid on the party headquarters of President Nicolas Maduro's biggest foe.
Dario Ramirez, a city councilman and member of opposition party Popular Will, shouted, "they're taking me away without a warrant" as national guardsmen, surrounded by journalists and party activists, frantically looked for an escape route from the Caracas shopping mall where they took him into custody.
Once he was escorted outside, dozens of activists banging pots and pans in protest attacked the squad, freeing Ramirez and ushering him away on a motorcycle.
The dramatic scene underscored the rising tensions that could spill over into violence on Tuesday when pro and anti-government activists hold duelling demonstrations in the capital.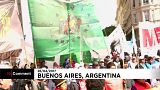 Farmers in Buenos Aires are giving away their produce to people in protest over conditions for small-scale producers.