Now Reading:
Demo over EU's Ukraine 'silence' Demo over EU's Ukraine 'silence'
Ukraine's opposition parties will continue protesting until President Viktor Yanukovych is ready to work with them, opposition leader Vitaly Klitschko said on Sunday.
Protesters marched through the opposition protest camp on Independence Square on their way to the German embassy, carrying blank signs and placards.
Outside the embassy they left letters accusing the European Union of staying silent during the ongoing political crisis in the country.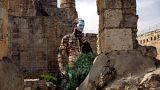 The iconic Tower of David in Jerusalem's Old City is getting a splash of colour.