No rest for the dead with surround-sound coffin
Comments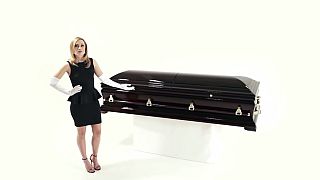 A Swedish man has designed a coffin with built-in speakers linked to a music playlist that can be updated by the living.
Music and video equipment store owner Fredrik Hjelmquist said his hi-fi coffin would entertain the dead and provide solace for grieving friends and relatives by making it possible for them to alter the deceased's playlist online.
"We don't know, right? But then people believe in different ways in different parts of the world," Hjelmquist told Reuters television when he was asked whether a belief in life after death was what would lead someone to buy his coffin.
"In Sweden perhaps we don't believe in it, but in many parts of the world people believe in a different way," he said.
He planned to be buried in such a coffin, he added, and would choose opera for his long sleep. He has not sold any of his coffins, but there have been many enquiries, he added.
The price tag is a hefty 199,000 Swedish crowns ($30,700).
"We've had an unbelievable amount of inquiries, not so much in Sweden, but many from the United States and Canada, also from Taiwan," he said.
"Ozzy Osbourne should buy one I think or Keith Richards. Somebody ought to do it because this is really rock n' roll I think…but at the same time beautiful," he said.
Reuters