Now Reading:
Snowstorm wreaks havoc in US Midwest Snowstorm wreaks havoc in US Midwest
A winter storm blanketed the US Midwest in snow on Thursday, disrupting air and road traffic and wreaking havoc on municipal services across the region.
The nasty weather, which started Tuesday and is pushing into the northeast of the country, has ruined travel plans for many people.
Approximately 100 million people in 22 states found themselves in the path of the storm, which was expected to be at its fiercest from late Thursday to Friday morning.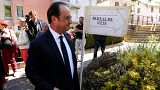 The incumbent Socialist president made the unusual move last year of pledging to not stand for re-election.