Now Reading:
Running Santa in Serbia Pro-European integration protesters hold a rally in Independence square in central Kyiv, December 29, 2013. On Friday, police in Ukraine accused five people, suspected of savagely beating a reporter, of links to the opposition; an allegation the opposition condemned as an attempt to deflect suspicions of government complicity.
REUTERS/Maxim Zmeyev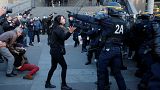 Tensions were running high on Paris' Bastille Square on Sunday night (April 23), at the end of a protest called by left wing militants.