Now Reading:
The world says goodbye to Madiba The world says goodbye to Madiba
Large numbers of presidents, ministers and royalty continued to pour into the FNB stadium in Johannesburg on Tuesday for the memorial service for Nelson Mandela. The sounds of horns and cheering filled the stadium ahead of the ceremony. The rain, seen as a blessing among South Africa's majority black population, enthused the crowd.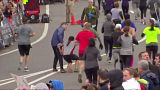 A woman close to collapsing at the end of the Philadelphia Love Run Half Marathon was given a helping hand as she approached the finish line.