The north of Germany was bracing itself on Thursday evening for a powerful hurricane force storm with winds of up to 140 kilometres per hour.
The storm has already battered Scotland killing at least one person and leaving more than 80,000 homes without power.
In Hamburg, flights were cancelled from early Thursday afternoon and train services restricted. Many schools and Christmas markets were closed.
Meterologists said it could be one of the most powerful storms to hit the continent in years. The German weather service issued an extreme weather warning and advised people to stay indoors.
"That is very dangerous, because trees can fall over at these speeds. Parts of roofs could fall off, bricks could fall down, so that it is life endangering if you are in a forest or you park under buildings or walk next to them. People should avoid that if possible," Meteorologist Andreas Friedrich said.
In Belgium, authorities are preparing for coastal flooding with strong winds and high sea levels forecast.
180-knot jet streak upstream of developing explosive cyclone #Xaver over North Sea pic.twitter.com/EBngTQcoBb

— Ryan Maue (@RyanMaue) 5 Décembre 2013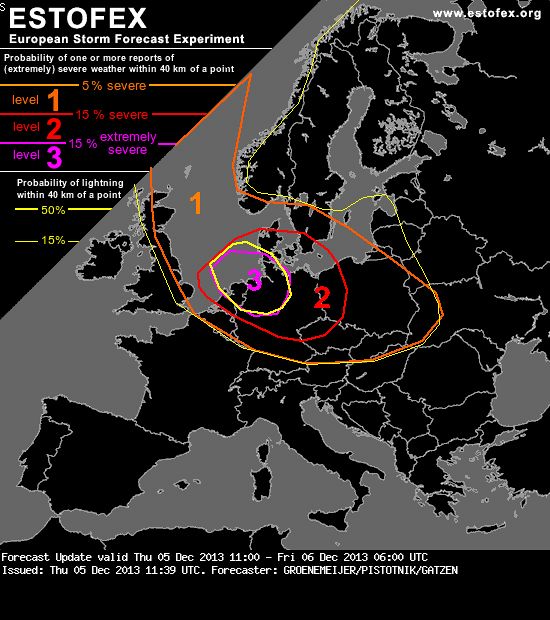 Credit: http://www.estofex.org/