Now Reading:
Demonstrators defy Egypt protest law Demonstrators defy Egypt protest law
Riot police in Egypt have clashed with protesters defying the new law, passed on Sunday, that restricts demonstrations. Hours before the timing of the referendum was announced, hundreds of protesters took to the streets to denounce the legislation. For them, it's another sign of authoritarianism by the military rulers who ousted Egypt's President Mohamed Mursi of the Muslim Brotherhood in July.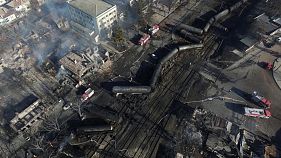 At least five people have died in northeastern Bulgaria following a gas explosion after a train derailed early on Saturday.