Pilot left red-faced after landing huge cargo plane at small airport by mistake
Comments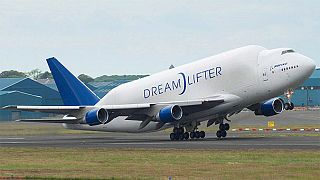 A giant cargo plane could be left stuck at a minor US airport – after seemingly landing there by mistake.
The Boeing 747 Dreamlifter was heading for a Kansas air force base, but instead landed at nearby Colonel James Jabara airport.
Local media report the plane needs 9,199 ft (2,803m) of runway to take-off, but the length of the tarmac at Jabara is 6,101 ft (1,859m).
Boeing has reportedly sent a tug to the scene but it is unclear at this stage how the plane will leave the airport.
Audio has emerged of an exchange between pilots and air traffic control – in which the mistake is revealed.