'Flying Sharks': China's first display of Jet Fighter Shenyang J-15-555
Comments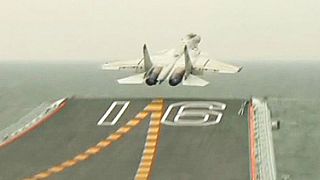 China's first carrier-borne J15 fighter jets were displayed for public to see Wednesday in Xi'an of northwest China's Shaanxi Province.
The jets exhibited for the public to see are originated from its prototype jet number "555". As of October, the J15 fighter has carried out thousands of tests and accumulated data of thousands of flying hours.
"[J15 fighter] is mainly designed to meet the demands of take-off and landing on aircraft carriers while it is also a fighter in a war. According to the current result of development and tests, its take-off and landing performances, mobility and maintainability all meet requirements," said Wang Yongqing, chief designer of the J15 fighter jet.
It is said that J15 fighter is currently preparing the next flying test on the "Liaoning" aircraft carrier and will undertake tests of comprehensive capabilities and cooperation with the aircraft carrier. In the near future, the jet will be tested at night and complex weather conditions.