Now Reading:
Rubbish piles up in Madrid Rubbish piles up in Madrid 
Plastic bags, bottles, boxes, food remains and autumn leaves littered the streets of Spain's capital on Wednesday, the second day of an indefinite strike by garbage collectors and gardeners over proposed lay-offs and wage cuts. Union representatives said some 6,000 outdoor maintenance workers joined the walk-out on Tuesday after private companies, contracted by Madrid's city hall, proposed slashing salaries by up to 40 percent and laying off 1,144 people.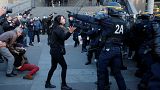 Tensions were running high on Paris' Bastille Square on Sunday night (April 23), at the end of a protest called by left wing militants.