Now Reading:
Tough day for Berlusconi Italian former prime minister, Silvio Berlusconi, performed a political U-turn to back prime minister Enrico Letta in a vote of confidence, despite threatening to topple the government just a few days earlier.
Letto won the senate vote, with 235 out of 307 senators pledging their support of the government.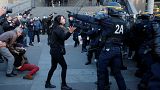 Tensions were running high on Paris' Bastille Square on Sunday night (April 23), at the end of a protest called by left wing militants.