Now Reading:
Thick fog blankets China Thick fog hit a large swathe of northern and central China on Monday, state media reported. Visibility was reduced to less than 500 metres on major highways in Shenyang City, the provincial capital of northern Liaoning province. Traffic was also slowed in several cities across central Henan province.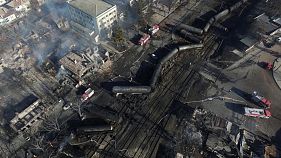 At least five people have died in northeastern Bulgaria following a gas explosion after a train derailed early on Saturday.