Now Reading:
Thick fog blankets China Thick fog hit a large swathe of northern and central China on Monday, state media reported. Visibility was reduced to less than 500 metres on major highways in Shenyang City, the provincial capital of northern Liaoning province. Traffic was also slowed in several cities across central Henan province.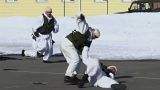 Russian soldiers held military exercises in Murmansk on Tuesday (25 April) in order to highlight the army's readiness to fight in severe weather conditions.