Now Reading:
Dust devil in California High winds in northern California kicked up a dust devil on Tuesday. The whirlwind of sand starting off small and then quickly picking up speed – shooting into the sky. The phenomenon – sometimes compared to a tornado – is formed when hot air near the surface rises quickly through a pocket of cooler, low-pressure air. Then the air will sometimes rotate… depending on the conditions and will stretch vertically.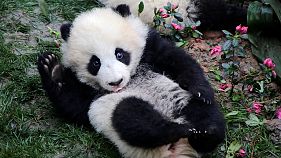 Giant pandas around the globe are welcoming the Spring Festival, or Chinese Lunar New Year, which falls on January 28 this year.