At least three people have been killed and thousands evacuated after the worst flash floods in decades hit Boulder County in Colorado.
National Guard troops with emergency supplies have been dispatched isolated areas, including the town of Lyons, which have been virtually cut off by the torrential rains.
Boulder County Sheriff Joe Pelle told reporters: "We've lost roads, we've lost bridges, we've lost homes, cars, and we are just now beginning to assess of the damage."
Residents in the town of Niwot say this level of flooding is unprecedented. Dave Finn said: "We sort of roll our eyes when they say 'you know you have to be prepared for the hundred year flood,' but here we are."
The heavy rains are forecast to continue.
The US government has approved a disaster assistance request from Colorado to provide additional funding help to tackle the crisis.
Crazy Flooding in Boulder, Colorado
CREDIT: YouTube/Brandon Randash (Sept 12, 2013)
CU Boulder Flood Tunnel Tubing!
CREDIT: YouTube/Carl Marvin (Sept 12, 2013)
Insane Flooding in Longmont, Colorado
CREDIT: YouTube/Payton Peterson (Sept 12, 2013)
Colorado Floods Force Thousands to Flee
CREDIT: YouTube/AssociatedPress (Sept 13, 2013)
Flooding near Estes Park, Colorado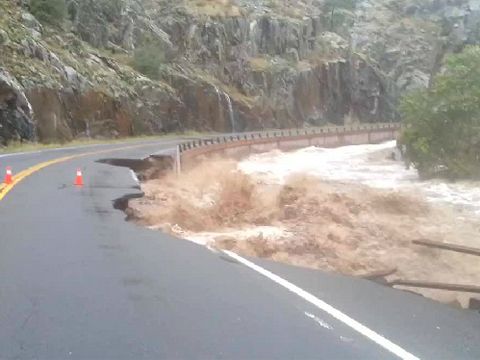 Click the photo or HERE to see the video.

CREDIT: Colorado Department of Transportation (Sept 12, 2013)
All views
Get a different perspective
Every story can be told in many ways: see the perspectives from Euronews journalists in our other language teams.