Now Reading:
Colombian farmworker protest Colombian farmworker protest
Protesters and riot police clashed in central Colombia on the eighth day of a nationwide agricultural strike. Coal and gold miners, among others, have been on strike since July 17th demanding the repeal of a 2012 government decree that allows police to seize and destroy unauthorised machinery used for exploration.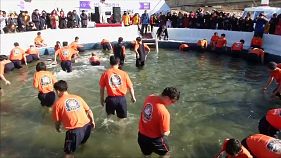 Locals and tourists braved below freezing temperatures to take part in South Korea's Sancheoneo ice fishing festival on Saturday (January 14).