Now Reading:
Colombian farmworker protest Colombian farmworker protest
Protesters and riot police clashed in central Colombia on the eighth day of a nationwide agricultural strike. Coal and gold miners, among others, have been on strike since July 17th demanding the repeal of a 2012 government decree that allows police to seize and destroy unauthorised machinery used for exploration.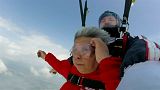 A 70-year-old grandmother has become an internet star in China after she took up skydiving.