Syria has denied opposition claims that President al-Assad's motorcade was hit by rebel rocket fire as he travelled to a mosque in Damascus.
State-run TV broadcast pictures which it said showed the Syrian leader marking the end of Ramadan at Anas bin Malek mosque in the Malki district, where his residence is located.
Earlier, a rebel brigade said rockets fired at the motorcade had caused casualties, even though Assad was not hit.
Meanwhile, Amnesty International has published what it says is compelling evidence showing how civilians in Aleppo are bearing the brunt of the prolonged conflict.
The human rights group compares satellite photos of three districts taken a year ago with later pictures dating from up to May this year. While acknowledging abuses by rebel groups, it blames the visible destruction largely on indiscriminate air bombardment by government forces of opposition-controlled areas, which it says reduced entire areas to rubble and killed and maimed many civilians.
"The research that we are releasing today shows the extent of the destruction since August of 2012, which coincides with when the government forces began the campaign of air bombardments, which has claimed tens of thousands of lives of civilians and caused massive destruction of civilian homes and civilian infrastructure, so it's a very important step in the process of documenting the war crimes that are being committed on the ground," said Amnesty's Donatella Rovera, who has spent long periods of time in Syria investigating human rights abuses.
Amnesty says the evidence helps explain why half the city's population has been displaced.
It describes the satellite images as the among the most comprehensive such analyses of an active conflict zone to date.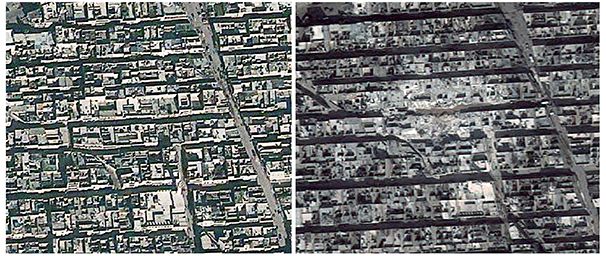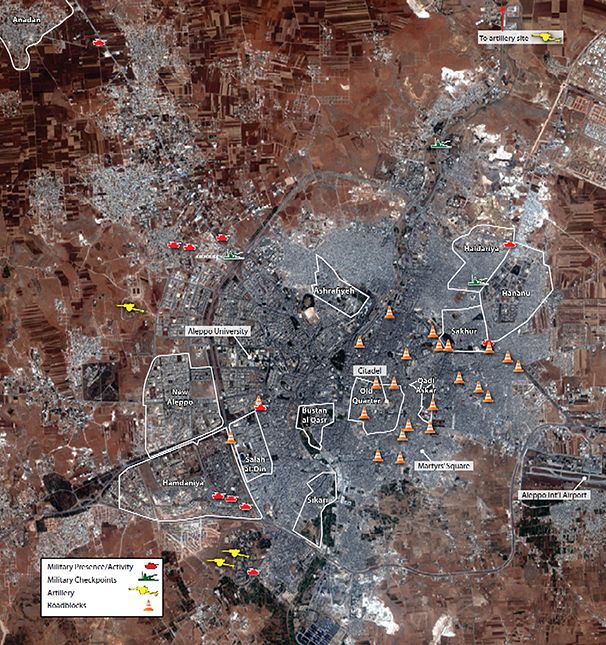 Science for Human Rights photo set on Flickr
Amnesty international Press Release (English)