Shooting stars align for Astronomy Photographer of the Year award
Comments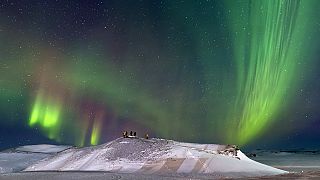 The 2013 Astronomy Photographer of the Year competition has received more outstanding pictures than ever before.
The competition, which is run by the Royal Observatory Greenwich in association with Sky at Night Magazine, is now in its fifth year and continues to go from strength to strength.
This year, the competition has received a record number of entries, more than 1200 spectacular photographs, from enthusiastic amateurs and professional photographers around the globe.
Shortlisted entries include the dazzling firework display of a Perseid meteor shower against a snowy backdrop in Wyoming; the spectacular view of the Milky Way arching over the much-loved landmark of Durdle Door on the Dorset coast; and a solitary watcher seated by his tent on the Korgfjellet Mountain in Norway watching a breath-taking Orionid meteor soar above him.
The diversity of locations is not just limited to Earth. Photographers have also captured sights from across our Solar System, galaxy and beyond; from frenzied solar storms on the surface of the Sun, to clusters of hot blue stars surrounded by swirling dust, to the eddying mix of pink and red gases of the Carina Nebula, where a massive star lurks at the heart of a constellation more than 7500 light years away.
The winners of the competition's four categories and three special prizes will be announced on 18 September and an exhibition of all the winning images opens the following day on 19 September at the Royal Observatory.
The exhibition is free of charge and runs until 23 February 2014. Winners and shortlisted entries will also be published in the competition's official book, available on 19 September from bookstores and online.