Britain's newspapers gush over birth of royal baby

There is almost universal acclaim for the new royal birth in Britain's newspapers.
The left-leaning 'Guardian' newspaper provided readers of its website with a 'Republican' button so that they could filter out the barrage of royal news if they wanted.
However, there is a clear wave of good feeling across the dailies as our correspondent in London, James Franey, took time to discover over breakfast this morning.
"'The Times' welcomes the future king, with the headline 'A Prince is Born' and provides a special royal supplement. It is only really 'The Independent' newspaper which dares to be different. It goes with the headline 'Cameron Retreats in War on Internet Porn', obviously with one eye on the general election and the picture of course outside Buckingham Palace."
"And the best selling tabloid 'The Sun' rechristens itself as 'The Son' with a close picture up of the announcement of the arrival of the Prince of Cambridge, whose life in the media spotlight and on the front pages of the newspapers has only just begun," said Franey.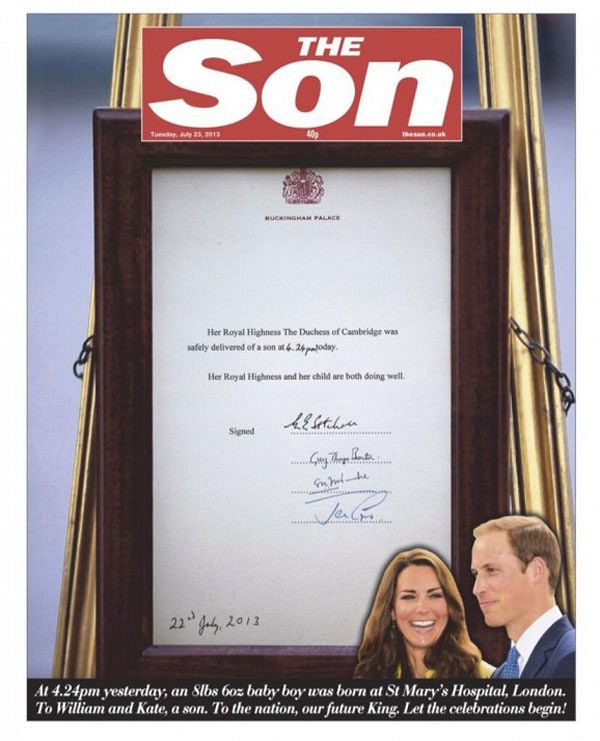 The Independent:


The Daily Telegraph, The Daily Express and The Daily Star:



The Daily Mail choisit de mettre l'accent sur le Prince Charles, nouveau grand-père

The Guardian:

Metro:

The Times:

The Daily Mirror:

The Financial Times:

Enfin, Private: