Now Reading:
Cupcake tribute to Mandela Cupcake tribute to Mandela
'Cupcakes 4 Kids with Cancer' organised a fun day with children and adults in Johannesburg to make a giant portrait of former South African president Nelson Mandela out of cupcakes. The charity raises funds for children with cancer and paired up with the Nelson Mandela Children's Hospital, who will receive the money made from the sale of the Mandela cakes.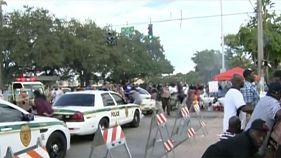 Eight people, including five juveniles, have been wounded in a shooting at a park in Miami.