Egypt's army is in control of the country after overthrowing elected Islamist President Mohamed Mursi, much to the delight of millions and the fury of his supporters.
In what the military denies is a coup, tanks and troops have been deployed across the capital.
In a televised address the head of the armed forces, General Abdel-Fattah el-Sissi, spelled out the army's intentions.
In a somber tone General el-Sissi announced the constitution was suspended, the president of the supreme constitutional court would act as interim head of state assisted by an interim council and a government of technocrats, until a new president and parliamentary elections were held.
President Mursi along with members of his government and the Muslim Brotherhood leadership are now said to be in military custody.
His one-year rule ended after a military deadline for him to yield to days of protests had passed.
Anticipating his removal he pre recorded a message condemning the military intervention and maintaining the legitimacy of his presidency.
Despite winning Egypt's first democratic election opponents accused him of following Islamist tinged policies rather than dealing with the country's crippling economic problems.
Euronews Cairo correspondent Mohamed Shaikhibrahim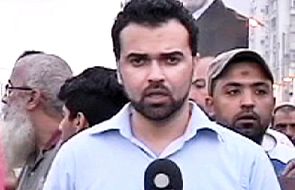 "After several attempts to enter the square where the Muslim Brotherhood supporters were protesting, in an area of Cairo called Rabea Adaweya, we finally managed after taking small back streets and alleys and bypassing the barriers of the Egyptian army, which had put tanks at the entrances and exits of the square. It was four o'clock in the morning by the time we had got there.
"The Egyptian army was preventing anybody from getting in or out of the square, and some demonstrators there, some of whom were wounded, told us that they been attacked twice during the night by unknown people who opened fire on them. They told us that the Egyptian army was arresting any protester trying to leave the square on to go home; some leaders of the Muslim Brotherhood were present in the square, and they got protection from the demonstrators when the army began looking for them. So they appear to consider the square as a shelter.
"The protesters welcomed me, and told me that Euronews was the first channel to penetrate the security barriers and get access to the area; they asked us to show clearly to our viewers what's going in, to show the fact they are still there, and to show they are surrounded by the army, that they are forbidden from communicating with the outside world after the Egyptian army shut off all the Muslims Brotherhood's TV channels. The pro-government protesters in the square appeared extremely fatigued, they say due lack of sleep. There was also a look of extreme sadness on their faces because of the departure of Mursi. We saw many people crying and asking to God to help them."

no comment