Now Reading:
Diving deep in Japan A long-forgotten, centuries-old Shinto ritual has been re-enacted in Japan's Mie Prefecture. About 100 female divers known as "Ama" – took part in the event. At the beat of the drum, they all dove to the seabed together. The ritual is called "Mikazuki". Amas in traditional costumes dive for abalone (sea snails) to be offered to the Ise Shinto Shrine. The ritual was last held in the early Meiji era in the 1800s.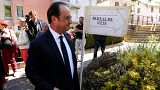 The incumbent Socialist president made the unusual move last year of pledging to not stand for re-election.