US first-quarter growth was 1.8%, not 2.4%

US economic growth in the first three months of this year was not as good as previously thought.
The latest revised figures show GDP was held held back by moderate consumer spending, weak business investment and declining US exports.
That surprised economists who did not expect a downward revision.
The original estimate for the first quarter was economic expansion of 2.4 from the same period a year earlier. But it seems the true reading was 1.8 percent.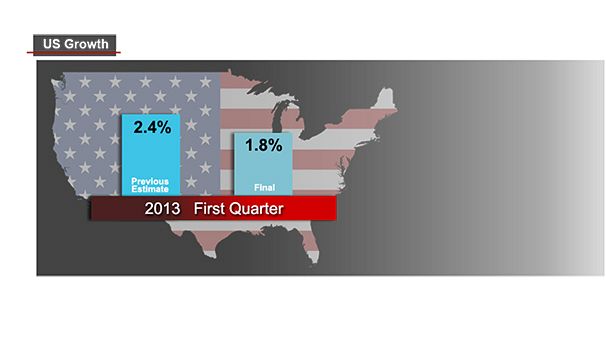 The data could have an effect on Federal Reserve thinking as policymakers at the central bank consider whether the US economy is strong enough for it to start scaling back its monetary stimulus.
"This gives (the market) hopes that the Fed won't be tapering as aggressively," said Craig Dismuke, chief economic strategist at Vining Sparks in Memphis, Tennessee.
Fed Chairman Ben Bernanke spoke last week about a possible slowing of the pace of its bond-buying stimulus later this year and a stop the programme in 2014.
Economists fear that could undercut growth, which has recently shown signs of picking up.
Consumer spending, which accounts for more than two-thirds of US economic activity, was weaker than originally calculated, mostly because Americans spent less on health care services. It increased at a 2.6 percent pace rather than 3.4 percent.
Exports, previously reported to have grown, actually contracted at a 1.1 percent pace in the first quarter, cutting 0.15 percentage point from GDP growth. That likely reflects a slowdown in the global economy.
Business spending barely grew, with investment on nonresidential structures declining more sharply than previously reported. The drop in spending on nonresidential structures was the first in two years.
Economists cautioned against reading to much into the numbers, given its backward-looking nature.
"We ended the quarter and started the year much weaker than previously thought," said Millan Mulraine, senior economist at TD Securities in New York.
"That said we still have a fairly constructive outlook. If you look at the confidence numbers, that suggests that we might be in for a fairly decent rebound in spending activity, maybe not this quarter but certainly in the months ahead."