Now Reading:
The 'edgewalk' experience The 'edgewalk' experience
Some people love panoramic views, but are afraid of heights. The Estonian Television Tower in Tallinn now offers the perfect compromise – 'Edgewalk'. Strapped in safety harnesses, people can walk along the very edge of the 175 metre-high viewing platform and enjoy the views without the need for a fence.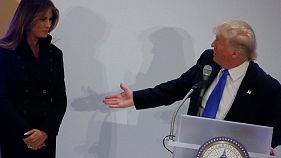 Trump called his wife to speak at the luncheon honouring his supporters on the eve of his swearing in as the 45th U.