NATO has handed over full control to Afghanistan's own security forces for the first time since the Taliban were overthrown in 2001.
In a ceremony that was attended by around 2,000 people, NATO Secretary-General Anders Fogh Rasmussen praised the Afghan soldiers, saying: "They have fought to ensure that international terrorism no longer finds a safe haven in Afghanistan and many have shed their blood for this cause."
The handover day is seen as a predominately symbolic, rather than strategic, milestone; as many regions had already been handed over to Afghan forces.
In a statement, General Joseph F. Dunford, Commander of the International Security Assistance Force (ISAF) said: "Challenges lie ahead. But today's announcement recognises the ability of a sovereign Afghanistan to meet those challenges. The Afghan people will see their sons and daughters providing security. The enemies of Afghanistan will see a capable, credible force."
NATO-led ISAF, which was set up in 2001, announced that since early June under 100,000 NATO troops from 50 countries were in Afghanistan, of which, more than two thirds are US troops. However, around half of these will return to the US by early 2014.
It is still not exactly clear how many soldiers will remain in the country after the 2014 deadline as some will stay to assist with counter terror operations.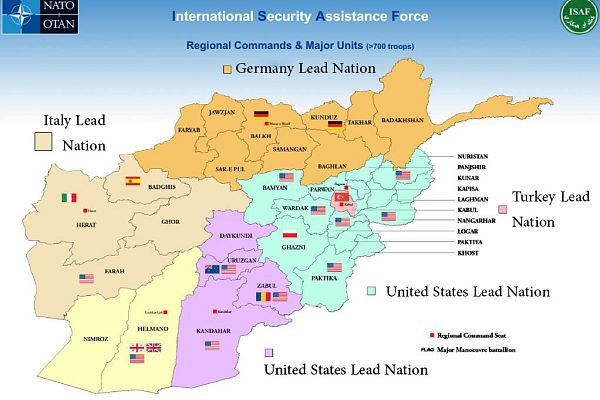 Image source: ISAF
There has been some doubt about whether or not the Afghan troops are ready for the transition but Rasmussen insisted they are. "Time and time again, we have seen them dealing quickly and competently with complex attacks, defeating the enemies of Afghanistan, and defending and protecting the Afghan people," he declared.
The security forces have rapidly expanded from 40,000 in 2009 to 185,000 today and still face several problems such as a high desertion rate and a steep rise in casualties since it assumed greater control.
The overall success of the Afghanistan mission has been a talking point for many during this final stage of shifting control. Some argue that success can be measured by the reduction in Al-Qaeda's strength in the country, which was one of the original goals.
However figures from the UN regarding civilian deaths show a difference story, with a 24% rise in the first half of 2013, compared with the same period in 2012. The Taliban still have a hold in some parts of the country and many wonder whether they would be capable of retaking Kabul once NATO leaves.
It has also been announced that Afghanistan's High Peace Council will travel to Qatar for peace talks with the Taliban, a move which is seen as a first step forward in a potential peace process. Talking about the Qatar trip, Afghanistan President Hamid Karzai said, "We hope that our brothers the Taliban also understand that the process will move to our country soon." There has not yet been a response from the Taliban.