Blogging has already evolved into a real professional job – more than a hobby – and this cyber world has already created its own prominent names and celebrities. Especially in the fashion sector, big brands reserve the frontbenches of their shows and events for important bloggers. In addition to that, there are many bloggers whose articles are more important and effective than any advertisement or magazine story. They create their own following, life style and cult items. One of the pioneers, French blogger Garance Doré shared her own experience with us. It is a very inspiring story, providing you can follow your dreams when creating your own business.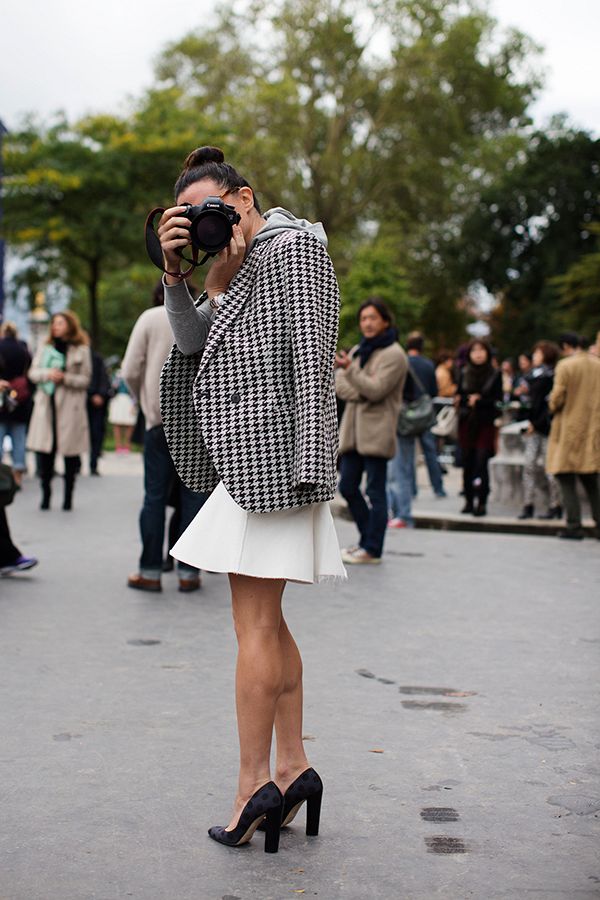 Nezahat Sevim, euronews:
Blogger, illustrator, HTML coder, photographer, video presenter, interviewer, author… You do lots of things, therefore you have lots of titles… But when you present yourself in the beginning, which one of these titles do you prefer? How do you describe your profession?
Garance Doré: I think we're in a time where you don't really need to describe yourself, a lot of people have more than one job and also a lot of people today take their passions as seriously as a job which I think is great. For me, it depends who I am adressing, and I don't have a favorite one. As Scott my boyfriend often says, I'm a communicator, I try to tell stories with my illustrations, photos, videos and words…
Sevim: How is fashion important for you? Before you entered into the fashion world, what was the role of fashion in your life?
Doré: Fashion has always been a big part of my life just because I've always loved magazines, clothes and anything esthetically pleasing actually. But before my blog, I couldn't ever imagine being able to work in fashion, it seemed very, very far away from me.
Sevim: What was your first job? Why did you want to change it? What were the motives that pushed you into fashion and illustration?
Doré: My first real job was working as an assistant programmer in a cinema, but I have always worked to make money during summers. My parents hadn't been very encouraging about my pursuing an artistic career, so I had picked a more classic path, studying communications. But I always wanted to have an artistic profession. Once I understood that I could actually work and be successful in a "normal job", I felt reassured and decided to give myself two years to try to be an illustrator. I quit my job and started training myself, and that's how it all started.
Sevim: What about the idea of blogging? How did it come to you? Why blogging?
Doré: Blogging in France developed very early, maybe because we like to talk so much! When I was a young illustrator, I didn't know any other illustrators, so I really felt a strong need to connect. I opened my blog with no other plan than sharing my illustrations and pushing myself to produce a post at least three times a week. At that time there was no success story, no business plan, nothing!
Sevim: How has your blog evolved? Why do you decide to start coding, photography and interviewing? Could you ever imagine that your blog would become something big?
Doré: No one could imagine what blogs would become. All the content I've added through the years came just because I am often excited about new ways to express myself and communicate. Same with interviews, which are just about meeting people I admire and sharing my admiration with my readers.
Sevim: What about financing? How do you finance your blog, your expenses?
Doré: A lot of ways! I shoot campaigns, I illustrate for brands, I create concepts for communication and I also have advertising and my own store on the blog. I have three people working with me, we're basically a creative agency. Mixing sources of revenues is the way I found to make my business as balanced as possible.
Sevim: What are your inspirations for covering a story or writing about something/ somebody? What kind of people/ issues attracts you to write about?
Doré: I want my blog to stay as personal as possible so the things I cover vary and the only filter is me. I like to talk about being a woman in a modern world. That's why we do these career interviews. I like people with a strong sense of humour, I want to inspire woman to be free, have fun, work and change the world (ok that's maybe a lot :)
Sevim: What do you think about the blogging world and internet media? What is the difference between blogging, classical journalism and citizen journalism? What is the difference between writing to a blog and writing to a magazine or a newspaper?
Doré: The limits are blurred now that newspapers have bloggers columns, and it's a good thing. But I think we still need professional journalists who do a real job with their sources, their references, the rules they apply to their profession. I am not like that, I'd never claim to be that, and the world needs the real journalistic voices. I just hope that they will still exist in the future, because as much as my work is about being totally subjective, the world needs objectivity.
Sevim: What are your future plans? How far your blog will go?
Doré: I am working on a book right now and many other projects. We're growing in a lot of different ways, creating a new future because we are the first generation of bloggers. So I can't tell you where I'll be in the future. I'm trying to create something good and fun and free, for myself but also for those who will come after me. Also, I hope I'll always keep blogging. I really really love it.
You can have a look at Garance Doré's blog in English and French
Nezahat Sevim