Nick Clegg, UK Deputy Prime Minister and leader of the Liberal Democrat party, has admitted that his party "let women down" following sexual harassment allegations against then-party chief executive Lord Rennard dating back to 2008.
An independent report into the allegations and their handling found that Clegg "should have asked more questions" and taken formal action when the claims against Rennard initially came to light.
Clegg described the review as "sobering" reading and took responsibility for the failure of his party to support the women with the correct processes in place.
He said that Helena Morrissey, who conducted the report, would return in a year to assess the party's new process. He added: "Let me be clear: the Liberal Democrats must be a party where even a hint of sexism is taken seriously; where every allegation of harassment is dealt with properly; and where there can be no fear that power or position can be abused."
British media have seized on the report to attack Clegg, whose Liberal Democrats are the junior party in the UK's ruling coalition. The conservative Daily Mail newspaper was particularly vehement in its criticism, saying the claim that Clegg did not act "humiliated" and "shamed" him.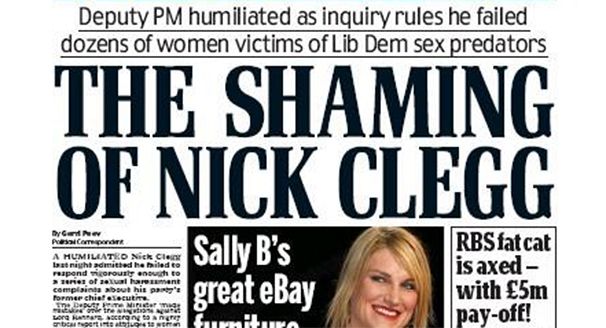 Rajeev Syal, writing for the left-leaning Guardian said "The report is a damaging blow for Clegg and his party, coming a week after the MP Mike Hancock resigned the whip to fight allegations that he molested a constituent who had approached him for help with noisy neighbours."
Recent opinion polls suggest the Liberal Democrats have slipped behind the anti-EU UKIP party and are now only the fourth biggest party in British politics.
Lord Rennard has strongly denied allegations of sexual harassment made by four women, but faces a formal investigation by the Metropolitan Police.