Now Reading:
FEMEN protest in Kiev An activist from the women's rights group FEMEN stages a demonstration outside the Russian embassy in response to Russian President Vladimir Putin's announcement of his separation from his wife. The woman intended to portray Olympic rhythmic gymnast Alina Kabayeva, referring to speculations that Putin could date the former sportswoman, according to FEMEN's press release.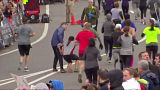 A woman close to collapsing at the end of the Philadelphia Love Run Half Marathon was given a helping hand as she approached the finish line.