To Vicenç Batalla, it seems like only yesterday that he celebrated Sónar Festival's tenth birthday in the Montjuïc palace. And it feels like it was just a few days before that he attended the first concert of the very first festival at the Centre of Contemporary Culture (CCCB), where he saw the Madrid band Esplendor Geométrico. By night, in the Apolo room, he remembers hearing the central European trance of Sven Väth live for the first time, the DJ raised up on a podium like a messiah. Then there was Atom Heart, Vapour Space and Álex Martín, who pushed the boundaries of machine-made music. The past two decades have confirmed that those early years in Barcelona set a global template for electronic music festivals.
Twenty years on, Sónar continues to present ground breaking initiatives and the line up poster boasts a pyramid of names, whilst the other attractions continue to draw inspiration from more conceptual ideas. One element that distinguishes it from similar events is its sense of humour and radical construction – it doesn't need neon fancy dress to define its style. In fact, the images of everyday life created annually by Sergio Caballero, one of the three pillars of the festival's organisation, are more effective than any metaphor. This year, bearded cheerleaders march and twirl in the middle of an empty suburb to the rhythm of 'Strings of Life' by Derrick May.
One of the festival's greatest successes was fusing the rave scene of the nineties with cultural elements, like the CCCB and the Museum of Contemporary Art of Barcelona (MACBA). This occurred within the El Raval district of Barcelona, which has become increasingly international and is blessed in June with the Mediterranean sun. Once encased in the entrance to the central square, and then alongside the subway, the twentieth edition brings a physical change that will tug on nostalgic heartstrings, but will provide more space and comfort.
Sónar by day, which features new media art, record fairs, technology demos and cinema, will move to the Montjuïc I fairground, where a direct train links to the massive Montjuïc II for Sónar by night, where the crowds amass to watch established acts as well as newcomers from the world of electronic and avant-garde music. A similar change occurred twelve years ago, when the festival left the Mar Bella pavilion by the sea for the immense warehouses of Montjuïc II. The sunrise at dawn no longer happens by the beach, but it's become easier to move from one location to another, and you've gained the bumper cars even if you've lost the company.
When it comes to ranking the two halves of the festival, Vicenç Batalla maintains that you simply cannot compare them, and while there are those who stick to either day or night, he believes that both are integral to Sónar's ambience. As with any growing festival, the past twenty years have seen a change in the audience, but the community spirit has remained, in part thanks to the number of attendees which has remained at 80,000 (along with 3,500 professionals and 1,000 journalists).
The music and the well-understood eclecticism remain the most important things, and have been scheduled over the past two decades by Enric Palau (a festival globetrotter) and Ricard Robles (the communicator for the event, which sprawls in substance, form and geography, accompanied by the multilingual Georgia Taglietti). During the past twenty years, every new style has passed through their hands without being marked by fleeting fads. This has allowed them to export the brand to London, Chicago, Tokyo, Sao Paulo, Cape Town and Reykjavik.
This year the festival combines timeless names like Kraftwerk, with their albums revised into 3D spectacles by Ralf Hütter, and the Pet Shop Boys, with their eternal melancholy synth pop, along with newer arrivals on the dance music scene. Genres to discover next weekend include 'trap' (think Baauer of Harlem Shake-fame), 'brostep' (like Skrillex, who recently soundtracked Spring Breakers), and 'moombahton' (Diplo with his electro house and reggaeton crossover).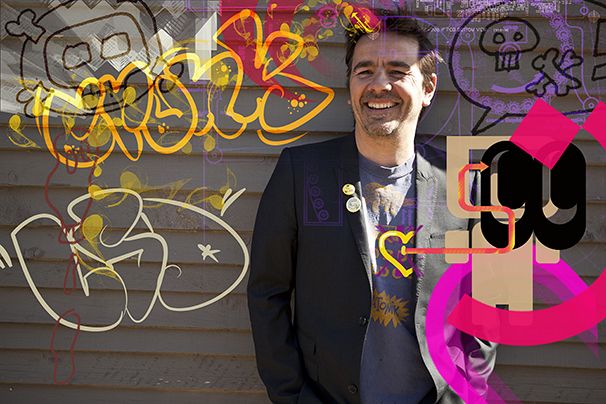 In between the festival will host some 130 artists of every stripe and colour: Coàgul, EVOL, Modeselektor, JESSE & Jimi Tenor, Gold Panda, Liars, Sébastien Tellier, Francesco Tristano, Metro Area, Mykki Blanco, Pascal Comelade & Richard Pinhas, Karl Hyde, Lindstrom & Todd Terje, Matthew Herbert, ZA!, La Bien Querida, Atom TM, bRUNA, Diamon Version, Jamie Lidell, Ólafur Arnalds Trio, Sherwood & Pinch, Raime, Bat For Lashes, Nicolas Jaar, Two Cinema Door, Diplo/Major Lazer, Maya Jane Coles, Derrick May, Richie Hawtin, Skip & Die, Fatima Al Qadiri, Jackson And His Computer Band, Chromatics, Felix Kubin & James Pants, Mary Anne Hobbs, Dinos Chapman, Darkstar, AlunaGeorge, Vatican Shadow, TNGHT, Jurassic 5, Delorean, 2manydjs, Busy P, Justice djs, Paul Karlbrenner, Skream, Seth Troller, Laurent Garnier, Max Richter…
For Batalla, the most memorable moments have been wide-ranging: the techno of Jeff Mills in 1997; M.I.A. at her colourful peak in 2005; Konono No. 1 in 2009, who hail from the Congo and use instruments made from items salvaged from a junkyard. He is looking forward to returning this year and experiencing the amalgamation of creativity, technology, innovation and business. As a connection with the first festival, there will be guest appearances from three local DJs who were also present at the beginning, twenty years back: Zero (Raül G. Pratginestós), César de Melero and Ángel Molina – without them, the city would not be what it is today.
Vicenç Batalla / Sukey Scorer
Europe's summer music festivals mapped