A member of the Swedish parliament said the political, social and economic system which Iran relies on is not long term sustainable in the long run. Not only because it is undemocratic but also it has become introvert, more dogmatic and more paranoid. People who were part of the regime are now excluded and are banned from presidential election.
Fredrik Malm, head of the Foreign Relations Committee of the Liberal people's party, the second biggest party in the Sweden coalition government, and a member of the Parliament's Foreign Affairs Committee, was speaking at the conference of "Unity for Democracy in Iran (UDI)", a coalition of different groups of the Iranian opposition , which was held in the Swedish Parliament in Stockholm.
Mr Malm, speaking on behalf of his party that hosted the gathering, said: "It is important for our party to show international solidarity and it is important to us to talk and act for more tolerance in the world and more democracy in the world. Therefore we are very happy that we can host this very important conference, whose focus is on free election in Iran and the need for democracy and human rights in Iran".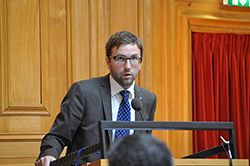 Interview with Fredrik Malm; audio:

The two day conference was the 4th such meeting held by UDI to discuss the legitimacy of the forthcoming Iranian presidential elections amongst other issues related to the country's politics.
UDI's main objective is to push for free elections in Iran by uniting the exiled opposition political groups under one umbrella. In the Stockholm meeting, activists from different political and social backgrounds, ethnic minorities, and former diplomats, gathered to discuss and examine different ways to encourage holding a free election in Iran in accordance with accepted international norms. Human rights issues, economic sufferings and inflation, and the fate of minorities were also subjects of debate.
The activities of UDI have angered the officials of the Islamic Republic of Iran, apparent from insults and negative labelling that have been published in state'sponsored newspapers and other affiliated government media.
Last November following UDI's third conference in Prague, the Czech Republic, Iran's Ministry of Intelligence and Information demonstrated its agitation in its official website by denying there was any kind of unity amongst the exiled opposition groups.
In his exclusive interview with euronews, Fredrik Malm explained his party's views on Iran's different issues, economic sanctions and military intervention. Fredrik Malm believes similar seminars are essential.
Report by Feria Mohebbi