This year's Champions League final at Wembley stadium in London is a showdown between the best of Germany on British soil. In what is known in Germany as Der Klassiker, Bayern Munich are facing long-standing rivals Borussia Dortmund.
In Saturday's final much attention will be focused on Borussia's talented midfielder Mario Goetze, who recently agreed to join Bayern in a deal worth 36.8 million euros.
The two rivals have met 75 times. Bayern Munich have defeated Borussia 34 times, while the club from the Ruhr valley has celebrated victory over the Bavarians on 17 occasions.
Bayern Munich
Bayern Munich is considered Germany most successful football club. The numbers speak for themselves: the club holds the record for most German Championships (23) and Cups (15) won by any of the country's clubs.
In European competitions, Bayern has accomplished a great achievement by winning three consecutive European Cups – the competition later named Champions League – from 1974 to 1976 under the captaincy of football legend Franz Beckenbauer and helped by top-scorer Gerd Muller.
Bayern Munich is also Germany's most successful club in international competitions, having won six trophies. Thus, Bayern is one of only four clubs to have won all three major European competitions.
In total, Bayern have played 382 games in European competitions winning 212, drawing 89 and losing 81.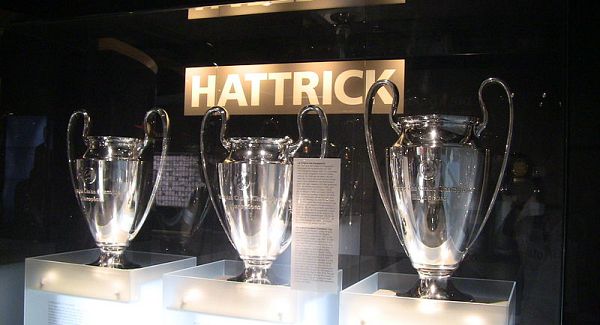 The three consecutive champions league trophies won by FC Bayern Munich 1974–76. The one on the right is the real European Cup trophy, given to Bayern permanently. The two to its left are slightly smaller replicas.
Der Kaizer's legacy
After the retirement of Franz Beckenbauer – nicknamed 'Kaizer' (in English: Emperor ) – Paul Breitner and Karl-Heinz Rummenigge became Bayern's leaders with the team being nicknamed FC Breitnigge.
In the 1990s, Bayern did not win any major European goal despite having superstars like Lothar Mathaus and Stefan Effenberg on the books. Local media had given the team a new, more derogatory nickname due to the frequent appearance of Bayern's players in gossip magazines and tabloids: from FC Breitnigge, the club became FC Hollywood.
Success did return to Munich in 2001. Two years after the devastating 2-1 defeat by Manchester United, in which Bayern conceded both goals in injury time, the club conquered Europe again. Under Ottmar Hitzfeld's guidance, Bayern won its fourth Champions League, beating Valencia on penalties in the final.
Bayern Munich
Founded: 27 February, 1900

Honours:
23 German Championships: 1931–32, 1968–69, 1971–72, 1972–73, 1973–74, 1979–80, 1980–81, 1984–85, 1985–86, 1986–87, 1988–89, 1989–90, 1993–94, 1996–97, 1998–99, 1999–2000, 2000–01, 2002–03, 2004–05, 2005–06, 2007–08, 2009–10, 2012–13
15 German Cups: 1957, 1966, 1967, 1969, 1971, 1982, 1984, 1986, 1998, 2000, 2003, 2005, 2006, 2008, 2010
6 German Super Cups: 1997, 1998, 1999, 2000, 2004, 2007
4 UEFA Champions Leagues: 1974, 1975, 1976, 2001
1 UEFA Cup Winners' Cup: 1967
1 UEFA Cup: 1996
2 Intercontinental Cups: 1976, 2001

Borussia Dortmund
Bayern Munich may be the most successful German club in terms of silverware but Borussia Dortmund was the first one to win a European title.
The North Rhine-Westphalia-based club celebrated winning the UEFA Cup Winners' Cup in 1966, beating Liverpool 2-1 in extra time in the final.
Their biggest European triumph came more than 30 years later. On 28 May 1997, in the Champions League final held at Olympiastadion in Munich, Borussia, led by inspired forward's Karl-Heinz Riedle, who scored twice, overcame Juventus with a 3-1 win and were crowned kings of European football.
Golden '90s
The mid 1990s was probably the best period in club's history. The team reached the UEFA Cup final in 1993 but lost 6-1 on aggregate to Italian giants Juventus.
From 1995 to 1996, Borussia won two consecutive German League titles and one year later took revenge on Juve for the UEFA Cup defeat. In the 1997 Champions League final, Alessandro Del Piero and Zinedine Zidane's Juventus side bowed to Borussia's superiority.
After that, Borussia went on to win the Intercontinental Cup as well, beating Brazilian club Cruzeiro 2-0.
Borussia's home
Signal Iduna Park, Borussia's stadium is the biggest in Germany and the sixth biggest in Europe with a capacity of 80,720 spectators.
Finding is ticket though is a serious task considering the fact that Borussia Dortmund fans literally adore their team. The clubs motto is quite indicative; "Echte Liebe", translated "True Love" in English.
Borussia Dortmund
Founded: 19 December, 1909

Honours:
8 German Championships: 1955–56, 1956–57, 1962–63, 1994–95, 1995–96, 2001–02, 2010–11, 2011–12
3 German Cups: 1964–65, 1988–89, 2011–12
4 German Super Cups: 1989, 1995, 1996, 2008
4 UEFA Champions Leagues: 1996-97
1 UEFA Cup Winners' Cup: 1965-66
2 Intercontinental Cups: 1997