80-year-old conquers Mount Everest

Eighty-year-old Japanese mountaineer Yuichiro Miura scaled Mount Everest on Thursday morning, becoming the oldest person to achieve the feat.
Gyanedra Shrestha, an official from Nepal's mountaineering department stated that Miura reached the peak at 08:45 am Nepali time. Shrestha added that all 10 members of Miura's team – including his son, Gota – conquered the peak without any serious problems and are now on their way back down.
Miura had already scaled Mount Everest five years ago aged 75. However, he was pipped to the post by Nepalese Min Bahadur Sherchan who reached the peak a day earlier at the age of 76 to become the oldest person to climb the mountain.
The rivalry between the two is not over yet. Sherchan, now aged 81, is currently at the Everest Base Camp preparing for another daring attempt at the world's highest peak, hoping to win back his record.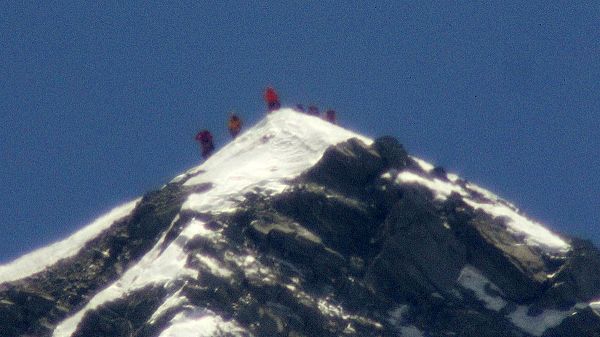 A team of climbers, including 80-year-old Japanese mountaineer Yuichiro Miura, stand on the summit of Mount Everest, on May 23, 2013. REUTERS/Kyodo
Miura's climbing history
Yuichiro Miura first scaled Everest in 2003 at the age of 70. He repeated the feat five years later.
It seemed as if his dream to be the oldest person to reach the peak had been shattered when he fractured his pelvis during a skiing accident in 2009. But against all odds and contrary to doctors' expectations, he started training just six months after the incident.
Considering the fact that he suffers from metabolic syndrome, an irregular heartbeat and irregular shaking of the atrium, Miura's achievement seems rather superhuman.
Miura's first acquaintance with Mount Everest dates back to 1970, when he became the first person to ski down the mountain from an elevation of 8,000 metres.