Now Reading:
Sorrentino and Soderbergh wow Cannes Sorrentino and Soderbergh wow Cannes
Celebrities tread the Cannes Film Festival red carpet, as the race for the Palme D'Or heats up, with two films that have charmed audiences.
There was thunderous applause for Paolo Sorrentino's 'La Grande Bellezza'.
Steven Soderbergh's 'Behind the Candelabra' heralds the triumphant return of Michael Douglas – alongside Matt Damon, in a role that critics are calling one of the best of his career.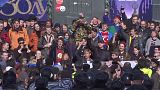 Thousands of people crowded into Moscow's Pushkin Square on Sunday for an unsanctioned protest against the Russian government.