Thousands of people took to the streets of Manhattan on Monday to protest against the murder of a gay man who was shot as he walked with a companion.
CBS reported that the attacker called the two men "faggots" before shooting 32-year-old Mark Carson in the head. Police say a man has been charged with murder as a hate crime.
The attack occurred in the busy Greenwich Village district of New York, an area which had previously been considered a gay-friendly neighbourhood.
The crowds of demonstrators met at the local Lesbian, Gay, Bisexual & Transgender Community Center and marched to the spot where Carson was killed, shouting the words "We're here! We're queer!"and "Homophobia's got to go".
The victim's aunt, who attended the rally, told reporters: "The family would like to have justice served, so that Mark's death is not in vain". She described her nephew as "a loving and caring person".
The city's first openly gay City Council speaker, Christine Quinn joined the demonstration, along with Edie Windsor who currently has a pivotal case to win the same rights for gay couples before the Supreme Court.
The events have been a shock to an area that was at the centre of the gay rights movement in 1969, when a police raid on a gay bar sparked the Stonewall riots that came to symbolise gay resistance to intolerance and discrimination.
More recently, homophobic attacks have been on the rise and police have confirmed that bias-related crimes have risen to 22 so far this year, compared with 13 in the same period in 2012.
Elsewhere in the world homophobic attacks have also been in the news: in the UK a gay couple who were beaten by a gang of youths have urged MPs to moderate their language when debating same-sex marriage. They are worried that opponents to the new marriage laws are legitimising homophobic attitudes.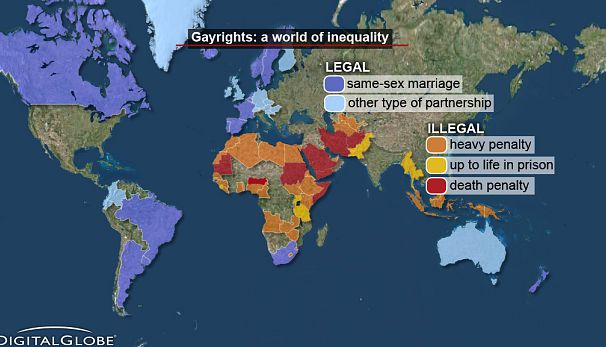 Read more- Homophobic violence in Europe
Read more- The spectrum of global attitudes towards homophobia