The 2013 Eurovision Song Contest is taking place in Malmö, Sweden. After the two semi finals, earlier this week, 26 countries will be competing in the final. After each entry has been performed live, juries of music industry pros from each country will cast their votes, as will the public. Who will win? Who will score NUL POINTS? Who will suffer a wardrobe malfunction? Will anyone become tired and emotional? For all the fun, plus answers to these vital Eurovision (EV) questions, follow our live text commentary here!
Press F5 or refresh your page to update the commentary.
00:25
So there we have it. A tragic result for OTT campness and a triumph for Denmark, who can well afford to pick up the EV tab next year. And perhaps by then the Danish singer will have found some shoes… (Oh yes, Azerbaijan were second and Ukraine was third.)
00:22
So now we know that Denners has definitively won, it's all down to whether Azerb or Ukers come in second. Romania are back down to 13th place. Denners singer is fainting and being supported by blokes in suits. Lithuania are dishing out some random kudos at the bottom of the league table and Azerb are sill in 2nd. Denners singing appears to be texting her Mom.
00:21
Denners singer now going potty, screaming, running around going balooloo… and Cyprus still haven't VOTED! Now, let's see… ok yes, more points for Denners… but 12 for Greece. YAY! Let's celebrate with all nutters worldwide! It's a great night at EV.
00:20
Denners are first, Azer second, Ukers third, Norway fourth, then Russian, Greece, Malta, The Netherlands, and Italy… at least Greece are UP THERE!
00:18
Romania in 11th place. Way ahead of UK and Ireland… sad for those topless drummers, gotta say.
00:16
Azer have slipped into second place. Can they stay there? Slovenia are judging (in a serious black shirt and an enthusiastic haircut) and giving it to Italy. He-llo? Did no-one SEE the Romanian performance? Denners are still numero uno.
00:15
Sweden got the points… and Norway and who else is a neighbour??? Yawny yawny yawn. Romania were BRILLIANT! Doesn't anyone live nearby?
00:13
Greece (obviously people with taste) have just lifted Romania to 10th place!!! Hooooooooray! Ireland are voting for Russia but YKW is still in the lead. Denners are now voting. Guess who for!!?
00:12
The French judge, in funereal black, is dishing out the kudos to the usual top 3 (you know who) and Romania have sunk back to 13… tragic results.
00:11
Iceland are voting and Romania have CLIMBED to 12th place. Go DRUMMERS!
00.10
Germany is going with Denners, Uk, Azer, Norway and GREECE are still in 5th place. Russia in 6th.
00:09
OK Here we are. Denners still 1, Ukr 2, Azerb 3 and the German judge has appeared on screen in what looks like a multicoloured crocodile skin.
00:08
Romania are now in 13th place. Is that sinking or shall we just say that if Ireland or the UK were there, they'd be very happy!
00.06
Russia have given Greece some points, so they've obviously got good taste. Malta is voting now and giving ROMANIA 7 points. Wooo hooo hooo!!!!! Let's here it for the NUDIE drummers!
00.05
Bulgaria are voting for Ukers and Aberz – so no surprises there. Sucking up to the neighbours is a fav pastime here at EV. Almost as much of a MUST at that ol'd Malf. Belgium just gave The Netherlands 12 points… see wot I mean?
00.05
It's a done deal, gotta say. Denmark were always hot favs. But still. Romania COULD pull their socks off and get anough votes to at least APPROACH the top rankings. And there's still second hot fav GREECE… who are in with a chance. Of something. Scoring a goal? Perhaps not. But making their mark? Defo.
00.01
Halfway through the voting and Denners are in the lead, Ukers second and Azerbaj are third. Ho hum. No leprechauns, no fuschia, no NUDIE drummers in there. At least Greece are keeping it up for madness.
Latvian judge is clutching a small amount of vegetation as she announces that she's voting for Russia… well, I adored Romania. What's wrong with singing falsetto whilst wearing a Liberace dressing gown?
23:58
1 Denners, 2 Ukraine, 3 Norway… COME ON Romania!
23:56
Finland are voting for guess who? Yar darling. Denners are getting the votes. Ukraine is in 2nd place, Norway is 3rd. Spain are up now with their votes and another strange Neopolitan icecream frock. Voting for Denners still in first, so far ahead that it's now a foregone conclusion. Ukraine second, Azerb still in third.
23:55
Armenia is announcing votes in a yellow jumper! Voting for Ukraine (gal in nude fishtail) and now Italy are voting for GREECE! Football is clearly a popular theme for EV. Ukraine are now in 2nd place. Malta fourth. Denmark steaming ahead with a swelling lead!
23:55
Romania's got some more points from Norway putting them about 7th. The UK and Ireland are lurking lurking lurking… but at least Estonia is there below them. Just. Romania are in 10th place!
23:54
Denmark are leading, with Azerbaijan hot on their heels, and Norway and Greece neck and necking it for fourth place. Estonia are lurking at the bottom.
23:50
Moldova have finally voted for Romania!!!! Hooray! I love Moldova! Denmark are still in the top slot though.
23:48
Hungary (in shiny green) are voting for… Romania? Nope. Denmark again. Azerbaijan are in 2nd place. Romania are voting for Greece putting them in 4th place. It's a compensation really, that such a nutty performance can be up there, when the GLORY that was Romania is clearly sinking to the bottom of the barrel.
23:47
Denmark are steaming ahead in the voting and the Ukraine judge looks like he's a contestant…
23:47
Israel have voted for Denmark, Azerbaijan and I think the Footie mob again…
23:46
Azerbaijan just got a bunch of votes so they're happy but UK just voted for Russia and Greece and Denmark. Still no-one seems to care about the fabulous Romanian performance. I'm gutted.
23:46
Austria went for the Footie players too! And Italy! Blimey, what about Romania?
23:45
The Netherlands have voted for Denamrk and Malta… Norway are in the lead.
23:42
Albania just voted for Italy… why?
23:41
And guess who Sweden have voted for? Yup, Denmark. And Norway.. and ok, the Scandies are all pals. (Norway's in the lead.)
23:40
After a break, voting has begun and Greece, the glory of the manic footie players, has just got 12 points!
23:02
The backing gals are standing well back. Prolly daren't get too close. And here come the finale fireworks, a great big fountain of them…
23:00
Sadly nobody is in green at all. But we have at last got TOPLESS drummers and backing dancers. Sweaty men in black leather and tats. Oooh! Not exactly EV but who cares??? Bring it on! And hasn't he got a BIG set of drums???? Oh, and doesn't he handle them like a pro?
22:59
Last but defo not least, here's Ryan Dolan from Ireland with Only Love Survives. Please let there be leprechauns.
22:57
Well, we got dry ice and a bloke in black. She was in a silver nightie with extra hip padding and a strange grey panel down one side. And they did meaningful walking towards each other but sadly no backing dancers and no pink. Perhaps they're saving it for a grand finale? We've got spurting steam! And fireworks. Oh yes, they've got the flamey things out and paid extra for clouds in the background and they're singing their li'l sox off, gotta say…
22:55
Nodi Tatishvili and Sophie Gelovani are giving their ALL for Georgia with the song Waterfall. Let's hope we get some wet shirts, eh gals?
22:52
It was a good start – the frock is star-trooper styled – but now she's just standing there. Where are the dancers? The fireworks? The dry ice? The wiggly dancing is ok but sadly the frock shows no sign of a Malf. But the guys here have just awarded her the Cutest Back View prize and the drummer is going potty in the background. Looks like Animal from the Muppets.
22:50
OK WAKE UP! Here comes Margaret Berger from Norway with the song I Feed You My Love, which is defo a good title. ANd she's in glitter silver. Things are looking up.
22:46
Marco Mengoni is singing his heart out with the song L'essenziale, hoping to bring home some good news for Italy. But sadly, he's wearing a recuperated Charlie Chaplin suit and he forgot to shave. Stubble is just so YESTERDAY! He's got the startled hair though… but apart from that I'm devasted to report that he's not really at EV, he's somewhere else… who knows where. A place where men dress in black, look mournful and clutch microphones as if they're drowning… I tell you, there's not even ONE bit of pink. Not even ONE backing dancer. Time to open another bottle. (Of multivit juice, natch.)
22:45
Hafta say it, it IS a shame she didn't go for a better shade of pink rather than that highly ON TREND nude colour. I mean, a splash of fuschia and some glitter armpits and she's have been a contender in various categories. Pink fireworks at the end just weren't enough to lift her into the top ten.
22:43
Zlata Ognevich is represent Ukraine with the song Gravity and it's what she needs because one puff and she'll blow away. She clearly hasn't eaten since 1958… which is why she had to be carried on stage by a refugee from Lordi. Wearing a nudie coloured fishtail frock, she's giving it her all. Well, as much as a gal can have when she hasn't eaten since… you get the picture.
22:40
The booze must have been free for this lot to get into this state. So they win Best Mania on Stage but they defo loose in the OTT Camp category and also they never even ev=ntered for Best Glitz, Best Pink Frock or Best NUDIE dancer. (We wqant some more of those, don't we gals?)
It's slo-mo footie and chanting in trendy monochrome with strange stamping and chanting.
22:39
Any song called Alcohol Is Free is a winner. So this has already won Best Title. Koza Mostra & Agathonas Iakovidis are doing it for Greece.
22:36
Whew. That's over but the next one looks a bit serious too. All in grey. Milli Seçim Turu is singing Hold Me for Azerbaijan and he's another one with startled hair. On the other hand he DOES have an upside down dancer in a perspex box. Good job the perspex is there too, cos they're looking pretty keen on each other. BUT here comes a mad dancer in a PINK FROCK! This is bliss. We have pink petals, the dancer in the box is going potty, he's upside down, the singer in grey is going mad and even the box boy is writhing.
22: 33
No other prizes however. No fireworks. No glitter. No backing dancers, NUDE or not. No bright pink wardrobe. No EV Malf. Nuffing. Bof. Take a nap gals, I'll wake you up if something happens.
22:31
Iceland wins for Singing in Foreign instead of Engerlish. Eythor Ingi (He With Long Blond Hair) is singing Ég á Líf.
22:29 Well, there you go, that's the entry that's expected to win… but don't forget Armenia in the Mascara category. She can't snatch that one!
22:26
It's starting well. Sandy Shore bare feet. Floaty frock, crazed backup drummers, handsome boy paying with his pipe, the gal singer is a runner up in the mascara contest and although there's no glitter, there's plenty of meaningful gasping going on.
22:25
Dearo dear. Moving quickly onto the next contender… Emmelie de Forest is representing Denmark with the song "Only Teardrops" and you might as well know that they are the hot favs with the bookies across the territory.
22:24
What IS he doing in this contest? Not a frock in sight. No glitter collar, no NUDIE dancers. No EV W Malf. Nuffin. I LOVE Hungary but this is PATHETIC! He's a defo for NUL POINTS. And what are those glasses he's wearing? Did Elton John help him choose those?
22:22
ByeAlex is up next, representing Hungary with the song Kedvesem. Not a natural choice as he says he doesn't like celebrity or glitter or any of that OTT camp stuff.
22:20
Extra points are awarded for the fireworks, even though the singer's really not old enough to be letting them off himself. What IS his mum thinking of?
22:19
I've got it. It was an accident with a hairdrier. He got an electric shock which is why his hair is all on end, and why his jacket has already had an EV Malf.
22:18
Sweden takes the stage now and since they're the hosts, we have to be polite about them. It's Robin Stjernberg singing "You". And he looks all of about 5 years old. On the other hand he's got some spectacularly brillant random dancers doing strange meaningless yoga-stuff behind him.
22:16
The song is called Believe in Me, BTW. Not that it matters, we're still shaking our heads over the missing OTT Camp.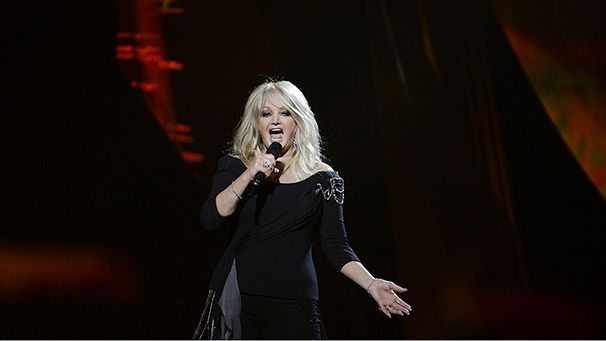 22:15
Now how is Our Bonnie to match that? She can sing, we all know that. But has she got NUDIE dancers? And sadly, the dress is on the plain side. Just a tiny bit of chain on one shoulder. She has got some dangling scarves though… but so far just a band playing instruments. No naked people at all. Tut, tut, tut…
22:14
All bets are off. Romania is my HOT HOT fav to win. Dry ice, fireworks, cray NUDE gal dancers… yes, ok they're wearing NUDIE body suits… but this is classic. We have writhing, drama and a shirt undone to the navel… a WINNER!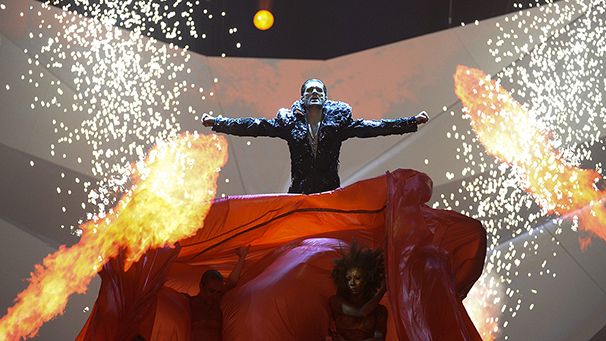 dubstep opera are you serious THIS IS WHY THE WORLD THINKS WE'RE SO STRANGE EUROPE. and it's amazing jfc #Eurovision

— Dan Howell (@danisnotonfire) 18 mai 2013
22:11
What a relief! At last a true EV entrant. He's wearing a black glitter dressing gown and the backing BOY dancers are apparently NUDE! And he's singing in a flasetto. There's an Eliz I collar too and yards and yards of red silk.
22:09
Shocking, just shocking. So moving swiftly on to Romania, represented by Cezar with the song It's My Life.
22:06
What's this? Anouk is wearing simple black! She looks stylish and understated! Does she know where she IS
Has she read the rules? Where's the egg? The glitter? The blue mascara? Good grief, what IS EV coming to?
22:05
And just a word about the presenter. She's wearing a pink trench coat with a cutaway neckline, a thigh split and a beehive. Anywhere else, and you'd be asking WTF? But here at EV, it's hot style.
22:02
Anouk is representing The Netherlands with the song "Birds". But suddenly nothing matters. There was a random shot of a polar bear on screen so it's all over on the voting front now. Cute furry things with cold noses and four paws ALWAYS win!
21:59
Two scarves (one round the neck and one trailing from the ripped jeans pocket) and some candle flares… it's all happening here. Just hope he keeps the scarves out of the flames.
21:58
Dorians, singing "Lonely Planet" has already won Best Mascara and also looks to be shaping up as a hot contender in the Wind Machine category. Watch the ripped jeans, girls. Fingers crossed for a wardrobe malf!
21:57
The German entry scored very high on Bits Falling From Above. Can the Armenian entry measure up?
21:56
Defo gets the prize for Most Skipping.
21: 55
And here comes the German entry, one of the so-called Big Five, Cascada singing "Glorious". The forck is an exagerated fishtail but at least it's in gold and the gal has the legs to wear it with style.
22:52
Stadium moment with glowing balls… forget those old lighters, so low-rent babeee…
21:51
Russian entrant Dina Garipova is singing "What If" and the subtext HAS to be What If I had a decent frock instead of this frumpy old nightie?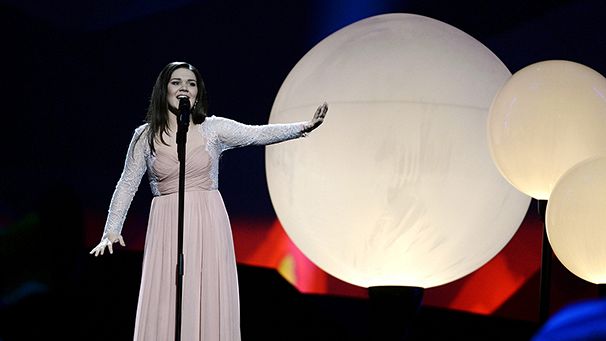 21:47
Gianluca is singing his little heart out for Malta with the song "Tomorrow" and lots of hopeful hand-clapping.
21:42 CET
The singer representing Belarus has just hatched out of an egg. Oops, it's a white Tina Turner! She's got the frock, she's got the heels. She's even got the micro mini frock. But does she have what it takes to win EV?
21:38 CET
Estonia. A colleague who reviewed ALL these songs last week said this singer makes him want to learn Estonian: "I quite like this one. Probably because my Dad used to play a lot of Rita Coolidge and there's a bit of Rita about Birgit. Nothing fancy, just a pretty girl in a pretty dress with a soft voice. This song actually makes me want to learn Estonian. Does Birgit teach? 10 points, 8-1 to win."
Hmmm. If you want the euronews jury's verdict on all the songs try here for the songs from the 1st semi final, here for the songs from the second semi final and here for the songs from the rest
21:35 CET
That Belgian boy – not Daniel Radcliff's twin brother, is he?
21: 35
Child star Roberto Bellarosa will is representing Belgium with the song "Love Kills" and sucking up by singing it in English.
21: 32 CET
El Sueño de Morfeo have just finished performing "Atrévete" complete with leggy running through a wind.
21:30 CET
And of course the only way to follow that is with a Spanish boy puffing on his bagpipes. And another fabbie frock. What's the better that updraft is destined to create a wardrobe malfunction – or should that be function?
21:25 CET
The same day that President Hollande signed same sex marriage into law in France, the entry for Finland seals the deal with an onscreen EV lip-to-lip moment.
21:24 CET
The glory begins. Krista Siegfrids obviously bought her outfit from the Punk Barbie-with-bruised-knee collection. It's all so exciting! And what was that about a lesbian kiss… keep watching…!
21:20 CET
Next up is Finland with the song Marry Me.
21:15
The backing dancers definitely get my vote for Most Strange and Meaningless so far… not to mention Most Billious Choreography.
21:15 CET
So far so classy. No singing grannies, no animal costumes… and next up representing Moldova is Aliona Moon singing "O Mie" and we're looking at the first really OTT frock of the evening, a vision in glorious fuschia, topped off by an origami gloss tulip.
21:00 CET
The fabulous voice and no-fuss delivery of Amandine wasn't exactly OTT and pink, but it came from the heart. And here comes the Lithuanian entry, Andrius Pojavis singing his song, "Something".
20:45 CET
Last year Englebert Humperdink was first up and finished second from last… this year France has drawn the short straw. Amandine Bougeois will be singing L'Enfer Et Moi, written by Boris Bergman and David Salkin. For the complete running order click here.