Texas town virtually levelled by blast at fertiliser plant

The evening of Wednesday April 17th 2013 was the day disaster came to the small Texas town of West.
A huge explosion tore through the local fertiliser factory and laid waste to a large part of the town.
Burning debris ignited fires all around. Buildings collapsed and windows blew out.
What was left was a scene likened to post-invasion Iraq or Oklahoma City after the 1995 bombing.
"We are still missing several firefighters that were on the scene fighting the fire. The explosion occurred while they were actively trying to put the fire out," Waco Police Chief Patrick Swanton told reporters at a hastily-convened briefing.
People have certainly died, but such is the extent of the devastation, it is not clear how many. Police estimate between five and 15 perished in the blast, but that figure is expected to rise as teams comb through the rubble of the flattened plant and surrounding homes.
What is clear is that scores have been injured, many by collapsing buildings or flying glass.
The cause of the blast is still not known, although large quantities of hazardous chemicals are stored at the plant.
Up to 80 homes have been flattened. The tremor created by the blast registered 2.1 on the Richter Scale and was felt 130 kilometres away in Dallas.
Explosion in #West, TX registered BIG TIME on seismograph in Amarillo (~400m from blast) twitter.com/DrewTumaABC3/s…

— Drew Tuma (@DrewTumaABC3) April 18, 2013
It is feared people may be trapped in collapsed or partially-collapsed buildings.
There is no clue as yet as to the cause of the explosion, although it is understood quantities of ammoniac were stored at the site. The compound is extremely unstable if it comes into contact with water. The site is being treated as a crime scene, say authorities, who added that there is no evidence yet of foul play.
The concern is now that a toxic cloud may be forming in the lower atmosphere, which, given the prevailing winds, may move in the direction of the much-larger city of Waco itself.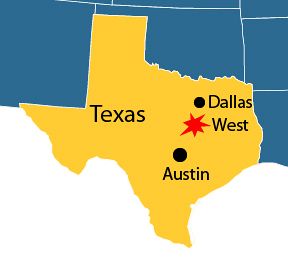 Video of the explosion – YouTube
This pic IS from the #Waco fertilizer plant explosion courtesy of @dfwscannertwitter.com/BrianBledsoe/s…

— Brian Bledsoe (@BrianBledsoe) April 18, 2013
Listen to the initial response of West Fire Department, Texas,to the explosion at a fertiliser plant:soundcloud.com/alertpage-1/we… …

— CitizensNewsNetwork (@IIIMEIIIXoP) April 18, 2013
See photos of fertilizer plant explosion in #WestTXbit.ly/XSkr43twitter.com/KFOX14/status/…

— KFOX News (@KFOX14) April 18, 2013