Two explosions at the finish line of the Boston Marathon have killed three people and injured more than a hundred in what is being treated as an act of terror by the authorities.
Both blasts ripped through the crowds causing scenes of panic.
Most spectators had been waiting to welcome the athletes home after completing the event which is held annually on the traditional Patriots' Day holiday. Several of the runners are among the seriously injured.
Scores of wounded were initially treated at the tents set up to help exhausted runners but medics there quickly had to adjust and deal with far more serious injuries including lost limbs.
Watch a video of the explosion:

Ambulances, fire trucks and dozens of police vehicles converged on the area…an initial fear was that more explosions could follow.
Obviously shocked spectators described what had happened: "We were in the VIP seating, watching across the street, we saw the first bomb go off, and people, sorry, blow up in the street and then the one further down," said one tearful young woman.
Another added: "They were banged up bad, sever lacerations, amputees, a lot of shrapnel, you know they were pretty big explosions. They were banged up, a lot of blood everywhere."
Boston's main hospitals quickly triggered their emergency routines to cope with the injured.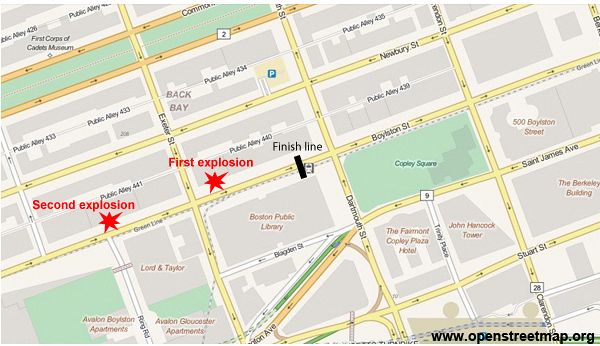 With cell phone systems blocked deliberately by police so as to prevent a possible remote control triggering of any further devices, contact between separated families was difficult.