Now Reading:
Easter fun with biking bunnies Easter fun with biking bunnies
While most europeans spent their Easter Sunday thinking about chocolate, eating with the family or at church, 150 motorcycle-bunnies collected presents for children with disabilities in the Croatian city of Osijek.
Meanwhile, villagers in Horhausen were testing their strength and skills at the annual egg-throwing competition.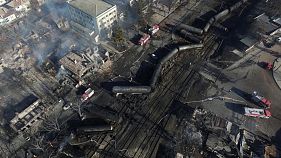 At least five people have died in northeastern Bulgaria following a gas explosion after a train derailed early on Saturday.